Request a Quote
Perforated Metal with Square Holes - Tooling up to 27" Wide - Staggered Pattern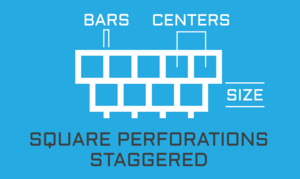 The following are examples of Stock Perforating Dies available for Standard Jobs of perforating square holes in a staggered pattern. These dies perforate brass, copper, zinc, steel, plastics, aluminum, hard board, monel metal, type 430 stainless, tin plate, galvanized, aluminized steel, specializing in 16 ga. & lighter. Perforation patterns for Stainless Steel are available down to 1/8" diameter hole in 22ga maximum thickness.
Sizes from 3/16 to 1/4" square holes
Center Distances from 0.312" to 0.288"
Square Size

Centers or Feed
3/16" sq

.312"
1/4" sq

.288"