Custom Perforated Aluminum Coil & Sheet
Aluminum Coil And Sheet Perforated To Your Specifications
Making sure you have the right materials for the job is essential. Depending on how thin, the length, and the perforation pattern, lead time could be affected. If your project calls for coil or sheet, we can perforate aluminum up to 36" wide and to any length.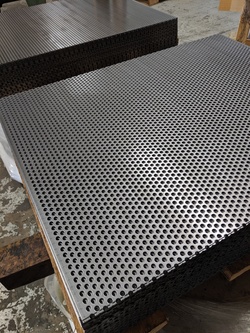 Perforated Aluminum Sheet & Coil Customized For You
With aluminum, we can perforate sheet or coil up to 36" wide and at any length. We can handle really thin foil material down to .003" and go as thick as .090" for all types of alloys and tempers including "dead soft" materials. All tooling options are available for aluminum and all of the additional services including slitting, cutting to length, and circle shearing. We can also process with or without margins depending on the project.
Types of Perforation For Steel and Aluminum Sheet or Coil
Round Perforations tooling to 27" – 36"

Square Perforations tooling to 27" – 36"

Oblong Perforations tooling to 27" – 36"

Custom Perforations and Dies also available
Exceptional Steel & Aluminum Perforation since 1948
Our quality policy is simple: "Producing quality parts that strictly adhere to our customers' requirements and delivering them in a reliable timely fashion." Because we maintain a large inventory of steel and aluminum, we're able to ensure fast lead times.
Call us at 800-521-6784 to discuss your project or if you know your specifications you can request a quote.
Clark Perforating Company
Custom Aluminum Perforation since 1948