Request a Quote
Perforated Metals with Round Holes Tooling to 36"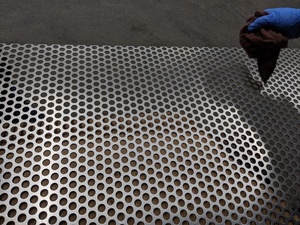 Custom Perforated Metal With Holes - Round Up To 36 Inches Wide
Do you need a Perforated Aluminum Panel in a small batch or larger reoccurring order?
Large order or single custom perforated metal panel - we provide a large variety of standard and custom patterns and perforation types. Our state-of-the-art computer-controlled presses can produce round, square, oblong, and slot, straight line and staggered hole patterns. We are capable of producing custom patterns to meet the most stringent requirements.
Call 800.521.6784 or if you have a specific project and specifications in mind Request A Quote today!
Perforated Metal Sheet with Holes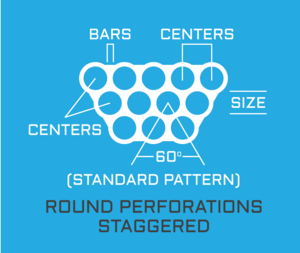 Custom Perforated Panel with Staggered Round Holes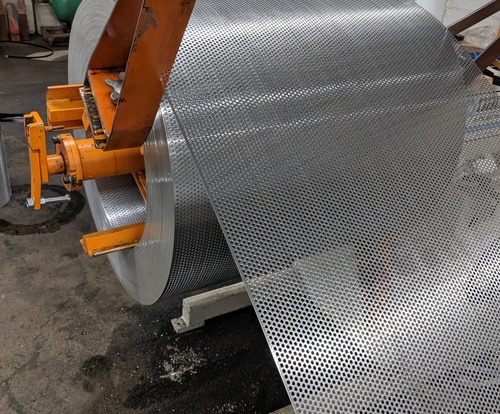 Perforated Metal Panel / Sheet with Round Holes
Sizes from 1/16" to 3/4" diameter holes
1.31 to 131 holes per square inch
7.4%-65.6% open area
Hole Size Fraction

Hole Size Decimal
Centers or Feed
Holes per sq. inch
% Area Open
3/8 x 3/4 oblong

N/A
9/16" end staggered
N/A
N/A
12/64 x 3/4 oblong

N/A
3/8" side staggered
N/A
N/A
1/16 in

0.062 in
3/32" staggered 60º
131
40.5 %
1/16 in

0.062 in
1/8" staggered 60º
74
22.5 %
1/16 in

0.063 in
7/32" staggered 60º
N/A
7.4 %
N/A

0.075 in
100 staggered 60º
N/A
54.3 %
5/64 in

0.078 in
1/8" staggered 60º
74
35.2 %
1/12 in

0.083 in
31/8" staggered 60º
74
40.0 %
3/32 in

0.0937 in
5/32" staggered 60º
47
32.4 %
3/32 in

0.0937 in
3/16" staggered 60º
33
22.8 %
3/32 in

0.0937 in
0.250 staggered 60º
18
13 %
N/A

0.097 in
1/8" staggered 60º
74
55 %
7/64 in

0.109 in
7/32" staggered 60º
24
22.4 %
7/64 in

0.109 in
3/16" staggered 60º
33
31 %
1/8 in

0.125 in
3/16" staggered 60º
33
40.5 %
1/8 in

0.125 in
7/32" staggered 60º
24
29.4 %
1/8 in

0.125 in
1/4" staggered 60º
18-1/2
23 %
1/8 in

0.125 in
3/8" staggered 60º
8
9 %
5/32 in

0.156 in
3/16" staggered 60º
33
63 %
5/32 in

0.156 in
7/32 " staggered 60º
24
45.8 %
5/32 in

0.156 in
1/4" staggered 60º
18-1/2
35.3 %
3/16 in

0.187 in
1/4" staggered 60º
18-1/2
51 %
3/16 in

0.187 in
9/32" staggered 60º
14-1/2
40 %
3/16 in

0.187 in
5/16" staggered 60º
11.8
32.4 %
3/16 in

0.187 in
3/8" staggered 60º
8.18
23 %
3/16 in

0.187 in
1/2" staggered 60º
4.8
13 %
1/4 in

0.250 in
5/16" staggered 60º
11.85
58 %
1/4 in

0.250 in
3/8" staggered 60º
8.18
40 %
17/64 in

0.266 in
5/16" staggered 60º
11.85
65.6 %
5/16 in

0.312 in
7/16" staggered 60º
6
46.7 %
3/8 in

0.375 in
1/2" staggered 60º
4.6
51 %
25/64 in

0.391 in
9/16" staggered 60º
4
48 %
1/2 in

0.500 in
11/16" staggered 60º
2.43
44.7 %
5/8 in

0.625 in
7/8" staggered 60º
1.5
47 %
3/4 in

0.750 in
15/16" staggered 60º
1.31
58 %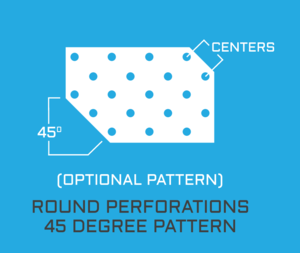 Custom Perforated Metal Panel
Sizes from 1/16" to 5/32" diameter holes.
12.5 to 50 holes per square inch
15.2% -22% open area
Hole Size Fraction

Hole Size Decimal
Centers or Feed
% Area Open
1/16 in

0.063 in
1/4" diagonal 45º
5.5 %
5/64 in

0.078 in
0.177 diagonal 45º
15.2 %
5/64 in

0.078 in
0.250 diagonal 45º
8.6 %
3/32 in

0.0937 in
0.243 diagonal 45º
12.4 %
3/32 in

0.0937 in
0.486 diagonal 45º
3.1 %
1/8 in

0.125 in
0.250 diagonal 45º
22 %
5/32 in

0.156 in
200 diagonal 45º
48 %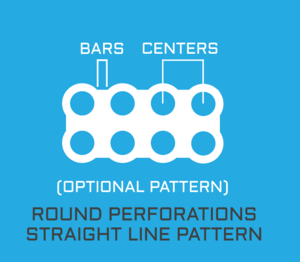 Custom Perforated Metal Sheet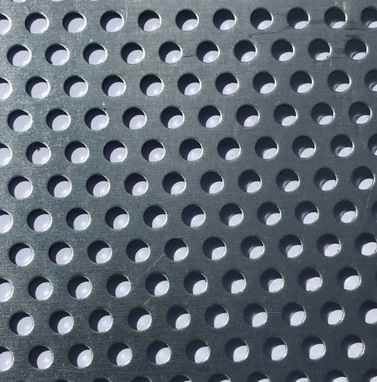 Perforated Steel Sheet (Galvanized)
Sizes from 1/8" to 1/2" diameter holes
4 to 42 holes per square inch
11% -66% open area
Hole Size Fraction

Hole Size Decimal
Centers or Feed
Holes per sq. inch
% Area Open
1/8" sq.

0.125 in
0.156 straight 90º
42
66 %
3/16 in

0.187 in
1/2" straight 90º
4
11 %
3/8" sq.

0.375 in
1/2" straight 90º
4
56 %
1/2 in

0.500 in
15/16" straight 90º
Optional with feed
N/A
1/2 in

0.500 in
1" straight 90º
Optional with feed
N/A