Request a Quote
Perforated Metal Sheet & Metal Panels with Round Holes Tooling to 27"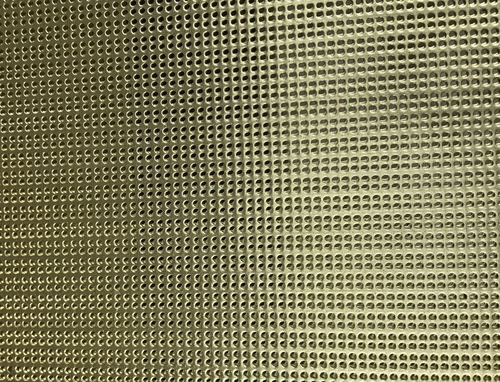 Custom Perforated Metal Panels
Perforated Metal Panel & Perforated Metal Sheet Available
Clark Perforating Company, Inc. offers a large variety of standard and custom patterns and perforation types. Whether you need a single piece or require a reoccurring order - our team can help. With state-of-the-art computer-controlled presses, we can produce round, square, oblong, and slot, straight line and complicated staggered hole patterns. We are capable of producing custom patterns to meet the most stringent requirements.
Call 800.521.6784 or if you have a specific project and specifications in mind Request A Quote today!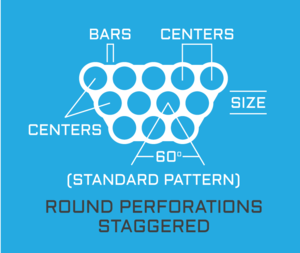 Custom Perforated Metal Sheet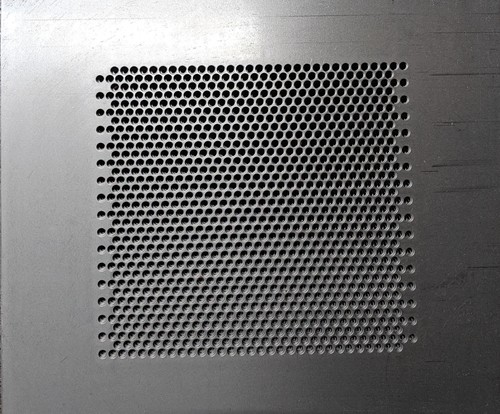 Perforated Metal Panel with Staggered Pattern
Perforated Metal Sheet & Perforated Metal Panels with Staggered Perforation Pattern
Sizes from .033 - 3/4" diameter holes
1.31 to 300 holes per square inch
6%-75% open area
Hole Size Fraction

Hole Size Decimal
Centers or Feed
Holes per sq. inch
% Area Open
7/64 in

N/A
N/A
47
44 %
N/A

0.027 in
0.066 staggered
300
17.5 %
1/32 in

0.033 in
0.071 staggered
237
20 %
1/25 in

0.040 in
0.088 staggered
169
22 %
1/24 in

0.042 in
0.088 staggered
169
23.4 %
1/23 in

0.043 in
0.088 staggered
169
24.5 %
1/22 in

0.045 in
0.088 staggered
169
27 %
1/21 in

0.048 in
3/32" staggered 60º
131
23 %
1/20 in

0.050 in
0.100 staggered
132
26 %
1/20 in

0.050 in
3/32" staggered 60º
131
25.7 %
1/20 in

0.050 in
0.110 staggered
108
20 %
1/19 in

0.053 in
3/32" staggered 60º
131
29 %
1/18 in

0.055 in
0.110 staggered
108
27 %
1/18 in

0.055 in
3/32" staggered 60º
131
32.3 %
1/17 in

0.059 in
3/32" staggered 60º
131
35.8 %
1/16 in

0.062 in
7/64" staggered 60º
98
30.4 %
1/16 in

0.062 in
1/8" staggered 60º
74
22.5 %
1/16 in

0.062 in
3/32" staggered 60º
131
40.5 %
1/16 in

0.062 in
5/32" staggered 60º
44
13.5 %
1/15 in

0.066 in
1/8" staggered 60º
74
25.3 %
1/14 in

0.072 in
1/8" staggered 60º
74
30 %
1/13 in

0.078 in
1/8" staggered 60
74
35.2 %
5/64 in

0.078 in
7/64" staggered 60º
98
46.7 %
5/64 in

0.078 in
0.098 staggered 60º
120
57 %
1/12 in

0.083 in
1/8" staggered 60º
74
40 %
5-1/2/64 in

0.086 in
9/64" staggered 60º
58
33.6 %
3/32 in

0.0937 in
5/32" staggered 60º
47
32.4 %
3/32 in

0.0937 in
3/16" staggered 60º
33
22.8 %
N/A

0.097 in
1/8" staggered 60º
74
55 %
6-1/2/64 in

0.102 in
5/32" staggered 60º
47
38.4 %
7/64 in

0.109 in
3/16" staggered 60º
33
30.8 %
7/64 in

0.109 in
5/32" staggered 60º
47
44 %
7-1/4/64 in

0.113 in
3/16" staggered 60º
33
33 %
7-1/2/64 in

0.116 in
5/32" staggered 60º
47
51 %
7-1/2/64 in

0.116 in
3/16" staggered 60º
33
34.6 %
1/8 in

0.125 in
3/16" staggered 60º
33
40.5 %
1/8 in

0.125 in
7/32" staggered 60º
24
29.4 %
1/8 in

0.125 in
1/4" staggered 60º
18-1/2
23 %
1/8 in

0.125 in
9/32" staggered 60º
14-1/2
18 %
1/8 in

0.125 in
3/8" staggered 60º
8
9 %
1/8 in

0.125 in
1/2" staggered 60º
4.83
6 %
8-1/2/64 in

0.134 in
7/32" staggered 60º
24
34 %
9/64 in

0.141 in
7/32" staggered 60º
24
37.4 %
9/64 in

0.141 in
3/16" staggered 60º
33
51.5 %
9-1/2/64 in

0.149 in
7/32" staggered 60º
24
41.8 %
5/32 in

0.156 in
3/16" staggered 60º
33
63 %
5/32 in

0.156 in
7/32" staggered 60º
24
45.8 %
5/32 in

0.156 in
1/4" staggered 60º
18-1/2
35.3 %
10-1/2/64 in

0.164 in
7/32" staggered 60º
24
50 %
11/64 in

0.172 in
1/4" staggered 60º
18-1/2
43 %
11-1/2/64 in

0.180 in
1/4" staggered 60º
18-1/2
47 %
3/16 in

0.187 in
7/32" staggered 60º
24
66 %
3/16 in

0.187 in
1/4" staggered 60º
18-1/2
51 %
3/16 in

0.187 in
9/32" staggered 60º
14-1/2
40 %
3/16 in

0.187 in
5/16" staggered 60º
11.8
32.4 %
3/16 in

0.187 in
3/8" staggered 60º
8.18
23 %
3/16 in

0.187 in
5/8" staggered 60º
2.94
8.11 %
3/16" sq.

0.1875 in
0.312 staggered 60º
10.3
36 %
12-1/2/64 in

0.194 in
9/32" staggered 60º
14.5
42.8 %
13/64 in

0.203 in
1/4" staggered 60º
18.5
59.8 %
13/64 in

0.203 in
9/32 " staggered 60º
14.5
46.9 %
13-1/2/64 in

0.212 in
9/32 " staggered 60º
14-1/2
51 %
7/32 in

0.218 in
5/16" staggered 60º
11.85
44.5 %
14-1/2/64 in

0.227 in
5/16" staggered 60º
11.85
47.8 %
15/64 in

0.234 in
11/32" staggered 60º
9.75
42 %
15-1/2/64 in

0.242 in
11/32"staggered 60º
9.75
45 %
1/4" sq.

0.250 in
0.288 staggered 60º
12
75 %
1/4 in

0.250 in
5/16" staggered 60º
11.85
58 %
1/4 in

0.250 in
3/8" staggered 60º
8.18
40 %
1/4 in

0.250 in
1/2" staggered 60º
4.6
23 %
16-1/2/64 in

0.257 in
3/8" staggered 60º
8.18
42.5 %
17/64 in

0.266 in
5/16" staggered 60º
11.85
65.6 %
17/64 in

0.266 in
3/8" staggered 60º
8.18
45.5 %
17-1/2/64 in

0.272 in
13/32" staggered 60º
7
43.5 %
9/32 in

0.281 in
13/32" staggered 60º
7
46.5 %
18-1/2/64 in

0.289 in
13/32" staggered 60º
7
49.2 %
19/64 in

0.297 in
13/32" staggered 60º
7
49 %
19-1/2/64 in

0.305 in
13/32" staggered 60º
7
52 %
5/16 in

0.312 in
3/8" staggered 60º
8.18
62.5 %
5/16 in

0.312 in
7/16" staggered 60º
6
46.7 %
20-1/2/64 in

0.320 in
7/16" staggered 60º
6
48.2 %
21-1/2/64 in

0.335 in
1/2" staggered 60º
4.6
40.5 %
11/32 in

0.344 in
1/2" staggered 60º
4.6
42.8 %
22-1/2/64 in

0.349 in
1/2" staggered 60º
4.6
44 %
23/64 in

0.359 in
1/2" staggered 60º
4.6
46.5 %
23-1/2/64 in

0.367 in
1/2" staggered 60º
4.6
48.9 %
3/8 in

0.375 in
7/16" staggered 60º
6
66.8 %
3/8 in

0.375 in
17/32" staggered 60º
4.3
45 %
3/8 in

0.375 in
9/16" staggered 60º
4
44 %
3/8 in

0.375 in
13/16" staggered 60º
1.74
19 %
24-1/2 in

0.383 in
9/16" staggered 60º
4
42.7 %
25/64 in

0.391 in
9/16" staggered 60º
4
48 %
13/32 in

0.406 in
9/16" staggered 60º
4
51.5 %
27/64 in

0.422 in
19/32" staggered 60º
3.27
45.8 %
7/16 in

0.438 in
19/32" staggered 60º
3.27
49.4 %
29/64 in

0.453 in
5/8" staggered 60º
2.94
47.5 %
15/32 in

0.469 in
5/8" staggered 60º
2.94
51 %
31/64 in

0.484 in
11/16" staggered 60º
2.43
44.7 %
1/2 in

0.500 in
11/16" staggered 60º
2.43
47.6 %
1/2 in

0.500 in
3/4" staggered 60º
2.04
40 %
33/64 in

0.516 in
11/16" staggered 60º
2.43
50.9 %
17/32 in

0.531 in
11/16" staggered 60º
2.43
53.8 %
9/16 in

0.563 in
3/4" staggered 60º
2.04
51 %
19/32 in

0.594 in
3/4" staggered 60º
2.04
56.6 %
5/8 in

0.625 in
13/16" staggered 60º
1.74
53.1 %
21/32 in

0.656 in
7/8" staggered 60º
1.5
50.5 %
11/16 in

0.687 in
7/8" staggered 60º
1.5
55.6 %
3/4 in

0.750 in
15/16" staggered 60º
1.31
58 %
21/64 in

0328 in
1/2" staggered 60º
4.6
39 %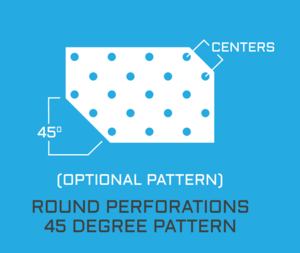 Custom Perforated Metal Panels
Sizes from 1/16" to 5/32" diameter holes.
12.5 to 50 holes per square inch
15.2% -22% open area
Hole Size Fraction

Hole Size Decimal
Centers or Feed
Holes per sq. inch
% Area Open
1/16 in

0.062 in
9/64" diagonal 45"
50
15.5 %
5/64 in

0.078 in
0.177 diagonal 45''
32
15.2 %
3/32 in

0.0937 in
3/16" diagonal 45º
28
19.4 %
7/64 in

0.109 in
9/32" diagonal 45º
12.5
12 %
1/8 in

0.125 in
0.250 diagonal 45º
17.9
22 %
9/64 in

0.141 in
17/64" staggered 45º
15
22 %
5/32 in

0.156 in
0.200 diagonal 45º
48
N/A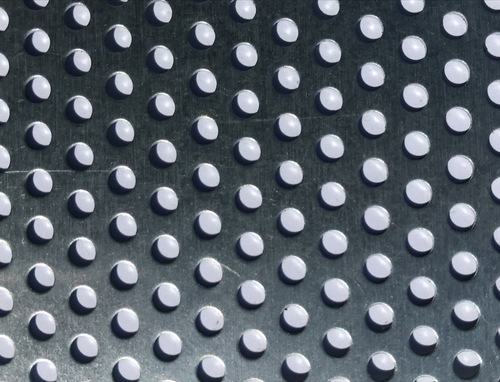 Perforated Steel Sheet (Galvanized)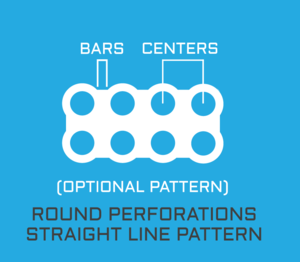 Custom Perforated Sheet
Sizes from .033 to ¾" diameter holes
4 to 400 holes per square inch
5% -74% open area
Hole Size Fraction

Hole Size Decimal
Centers or Feed
Holes per sq. inch
% Area Open
N/A

0.027 in
0.050 straight 90º
400
23 %
1/32 in

0.033 in
0.055 straight
324
28 %
1/32 in

0.033 in
0.055 straight 90º
324
28 %
1/25 in

0.040 in
0.088 straight
169
22 %
1/25 in

0.040 in
0.066 straight 90º
225
27 %
1/24 in

0.042 in
0.066 straight 90º
225
31.1 %
1/23 in

0.043 in
0.066 straight 90º
225
33 %
1/22 in

0.045 in
0.066 straight 90º
225
37 %
1/21 in

0.048 in
0.071 straight 90º
178
32 %
1/20 in

0.050 in
0.078 straight 90º
169
33 %
1/20 in

0.050 in
0.071 straight 90º
178
35 %
1/20 in

0.050 in
0.084 straight 90º
144
28 %
1/19 in

0.053 in
0.071 straight 90º
178
39.5 %
1/18 in

0.055 in
0.084 straight 90º
144
37 %
1/18 in

0.055 in
0.071 straight 90º
178
44.1 %
1/16 in

0.062 in
3/32" straight 90º
100
31 %
1/16 in

0.062 in
0.100 straight 90º
100
31 %
5/64 in

0.078 in
1/8" straight 90º
64
30.5 %
5/64 in

0.078 in
7/64" straight 90º
83
39.6 %
3/32 in

0.0937 in
9/32" straight
12.6
8.7 %
6-1/2/64 in

0.102 in
0.143 straight 90"
49
40 %
1/8 in

0.125 in
1/2" straight 90º
4
5 %
9/64 in

0.141 in
3/16" straight 90º
29
44.5 %
3/16 in

0.187 in
1/2" straight 90º
4
11 %
2/10" sq.

0.200 in
1/4" straight 90º
16
64 %
1/4 in

0.250 in
1/2" straight 90º
4
19.6 %
1/2 in

0.500 in
3/4" straight 90º
Optional with feed
N/A
1/2" sq.

0.500 in
11/16" straight 90º
2.44
53 %
1" sq.

1.00 in
13/16" straight 90º
0.71
71 %