Not Just Metal: Offering Perforated Plastics of All Types
At Clark Perforating, we offer precision perforated panels and coils of all sizes.
One question we sometimes get is whether we offer perforated plastic panels and sheets.
The answer: yes!
In addition to cold-rolled steel, aluminum, copper, brass, and many other materials that can be found here, Clark Perforating also offers perforated plastic panels.
Some of the most common plastics we work with include, but are not limited to, include polypropylene, PVC, and HDPE. Contact us here for any questions regarding your next project.
When beginning a project, you may want to keep in mind some of the differences in application between polypropylene, PVC, and HDPE.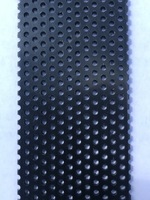 Clark Perforating Offers A Variety of Plastics For All Applications
Perforated Plastic Panels: Knowing Your Options
Polypropylene is a diverse material which can be used in both the home and industry. Polypropylene has a very high melting point, which makes it ideal for appliances like microwaves and washing machines. Additionally, it can be dyed or colored very easily and does not absorb any water. Polypropylene is light weight and flexible, making it a great choice for a variety of applications like loudspeakers and other consumer electronics, automotive parts, containers, and even lab equipment.
Polyvinyl chloride, or PVC, is most commonly recognized in the hardware store for plumbing projects; however it goes beyond what we're used to seeing day to day. Compared to other plastics, PVC is very rigid, but with the addition of plasticizers it becomes much more flexible. The versatility of PVC means it works well in a variety of structural applications including door and window frames. PVC is also corrosion and weather resistant making it an excellent electrical and thermal insulator.
Finally, HDPE (High-density polyethylene) is another common plastic we work with. HDPE is incredibly resistant to corrosion and can be used safely with most industrial chemicals, including acids and alkalis. Use HDPE in projects where moisture resistance and corrosion resistance are key. It also tends to be very cost-effective and can be used safely in a wide range of temperatures. Some common applications of HDPE include chemical and liquid containers, packaging material, boat parts, and various consumer products.
Additionally, we can perforate plastic panels in a variety of different ways, including round perforations, square, hexagonal, oblong, and custom.
Clark Perforating Company is a family owned and operated business, established in 1948 and based out of Milan, MI since 1954. Offering precision-perforated panels of all types of material with a quick turn-around.
Contact Us or Request a Quote today!