Perforated Panel - Large Inventory with Quick Lead Time
Need Cold Rolled Steel Perforated Panel to complete your project?
Need a reoccurring large order with specific gauge and perforation patterns?
Getting the right type of perforated panel for your project doesn't have to be a hassle. You should be able to find the material you need perforated to your pattern and shape specifications with quick project lead time. That's where our team comes in.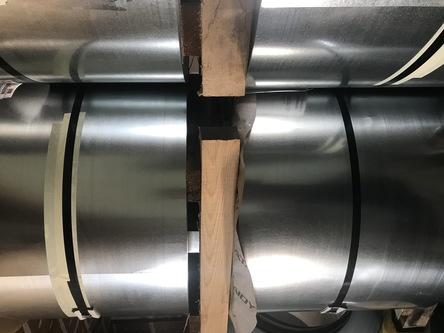 Metal Perforated Panel Inventory
As a family-owned and operated business, Clark Perforating Company has provided clients throughout the United States and Canada with precision perforated panels with fast lead times for decades. Whether you're looking for a large run of an aluminum perforated panel or a thin foil or plastic, we maintain an inventory of materials that is ready to go as soon as specifications for your project come in.
Materials We Always Keep In Stock for Perforated Panel:
Cold Rolled Steel (CRS): 16ga – 28ga

Aluminum: .063 - .025. Usually 3003-H14 alloy

Galvanized: 20 ga. - 30 ga.

Stainless: 20 ga. - 28 ga.

Brass: 20 ga. - 28 ga.

Electro Tin Plate Steel: 22 ga. - 28 ga.

Plastic: .040 and .060 Black Polypropylene and Natural Polypropylene
Clark Perforating Company – Producing Perforated Panels for Over 70 Years
With our inventory of all types of alloys and tempers, we're able to ensure a fast turn around from start to perforation to delivery. Our fast lead time for perforations and our precision tools and techniques allow us to handle most plastic or metal perforated panel projects quickly and to your specification.
Whether you're in the need of a large reoccurring order or small run panel, Request A Quote if you already have exact specifications or if you need help determining pattern and material give us a call at (800) 521.6784 today.
"Clark Perforating has been able to meet all my needs. I would definitely recommend them for anyone looking for superior service and technical knowledge." - Jerry K.
Read more of our Reviews
Clark Perforating Company LLC.
Custom Metal Perforated Panel